Fully equipped market research facilities for your market studies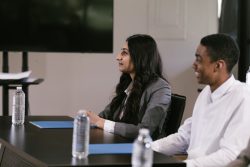 Carrying out good qualitative market research implies having a specific environment that allows us to provide both the brands that hire us, and the participants of the study, a series of facilities and amenities according to the product that frames the research. At Arpo we are aware of this, and that is why our market research agency has its own market research facilities to carry out our studies.
Why is it necessary to have market research facilities adapted to your products?
Market research is only as good as the data it provides. It's not enough to have a good idea, you have to make sure that the product or service you offer matches what your customers are asking for. And the best way to do that is to conduct your research in professional spaces adapted to everything you need to make participants feel comfortable.
The spaces and rooms we have at Arpo are the perfect environment, equipped to adapt to the needs of each project.
What kind of studies can be performed in our facilities?
The flexibility that our facilities provide makes them ideal for any type of study. Each one of them offers a series of different resources specially designed to cover any requirement that companies and users may have.
We have rooms equipped with kitchens, and diaphanous and multifunctional spaces with the latest technology, all of them fully customizable according to the needs of the company.
What are the dynamics that take place in these environments?
Some of the dynamics that can be carried out in our rooms include focus groups, meetings, surveys, in-depth interviews, product testing or projective techniques, among others. All in 100% air-conditioned environments equipped with one-way mirrors and the technology for audiovisual recording.
What can market research bring to your company?
Market research is a process used to better understand an industry or consumer group. It is a key part of any business and helps to identify the potential of a particular product, so it drives organizations to find innovative new ideas that help to increase their sales and customer base.
Market research can be conducted for a new or an existing product. In addition, this type of research gives you the opportunity to see who your competitors are and how you can stand out from them, giving your product the added value that will make the difference when it is launched on the market.
Market research has become the most important part of the effective operation of any business. Therefore, in Arpo, our market research facilities are designed in such a way that they can provide you with the necessary information to make an effective and valuable business decision. If you want us to inform you about all the possibilities on offer, contact us, and we will assist you, under no obligation.