Recruitment agencies in Spain? Trust in Arpo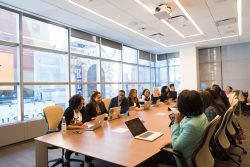 Are you looking for recruitment agencies in Spain? If the answer to your question is yes, with Arpo you have found your trusted agency. We are a company with extensive experience in the market research sector, and our professionals are experienced and capable of recruiting participants for any research that your business might be interested in conducting.
How does one of the best recruitment agencies in Spain work?
Years of experience and our personalized service adapted to our client's needs, have positioned us as one of the best agencies in Spain. We have achieved this by perfecting our recruitment processes for market research participants, as we have an exhaustive protocol for selecting the people who will participate in one of our studies. For results that are of interest to your company and that will help you make decisions that will lead to your business' success, you need the right participants. At Arpo, we can help you to find them.
Steps we follow to select our participants
You might be wondering how many phases are involved in recruiting the right participants for a market research study. There are three distinct steps that we follow to recruit these individuals:
Target audience localization: In order to recruit the right participants, you need to have a clearly defined profile about which you wish to obtain information in your market research. To do this, we must first delimit and define in detail the public that you want to participate in the study. It is also crucial that you are very clear about the people you are not looking for, so we can recruit exactly the people you want.
Preparation of the recruitment questionnaire: With this, we will be able to qualify and filter the respondents and make a list of the participants that best fit the objective of the market study for which we have been hired. To create this questionnaire we will make a series of questions, as brief and direct as possible, and we will use the answers to select the right candidates to participate.
Contact and follow-up: Once we have selected the participants we think will give us the most interesting answers for your company, we will contact them. We will have analysed which communication channels they use most and we will use these channels to send the invitation to participate in the market research. In addition, we will monitor their collaboration in the studies, and we will keep our databases updated so that we do not always select the same participants in our processes.
Request Arpo's services to guarantee the best participants for your market research
If you need participants for research, and you need to obtain profitable results for your business, trust us, one of the best recruitment agencies in Spain. Do not hesitate to contact us, and we will attend to you in a personalized way and adapt to your needs.